PROHYGIENA-SURFABAC DR 19A is a new cleaning and disinfection product. Contact disinfectant cleaner. Bactericide. Fungicide. Virucidal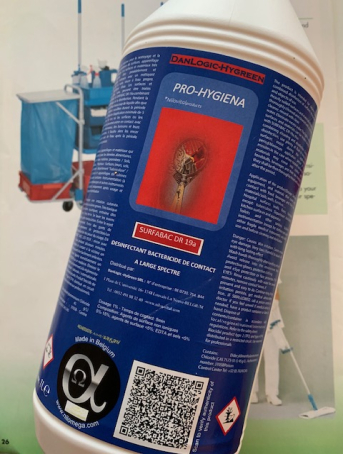 It allows the disinfection of medical equipment (before washing), equipment used not sterilized before reuse, dirty surfaces and sanitary equipment. PROHYGIENA-SURFABAC DR 19A responds specifically to the many epidemiological cases which arise in a hospital environment, therefore reducing the number of disinfectants used in a hospital institution and their impact on the environment.
-All surfaces contact disinfectant
-Get rid of all types of filth (grease, organic waste) while disinfecting the surfaces
-Concentrated product to be diluted in running water
-1L = 100L of the product ready for use
-Suited for medical, dental and veterinary material and surfaces, as well as food industry hygiene
-Gets rid of microorganism: bacteria, fungi and molds, yeasts, viruses.
-Gives cleaned surfaces a neutral pH.
Acts on cells in suspension from 5 bacterial strains:
* Staphylococcus aureus
* Streptococcus faecalis
* Escherichia coli
* Pseudomonas aeruginosa
* Mycobacterium smegmatis
-Bactericide/fungicide/virucide action in 30sec
-Mycobactericide in 1 min
-Active on the Candida Albicans strain according to EN 1650 standard. HIV viruses and herpes viruses 3 strains.
CONTEXT
The hospital and clinic are home to many sources of germs (infectious agents such as viruses and bacteria, fungi and prions.
Viruses have an important place in particular in certain specialties such as pediatrics.
Among the bacteria responsible for infections in hospitals, the proportion of multidrug resistant strains is the highest of all staphylococci, which are very common germs.
Thus, the koch bacillus, such as hepatitis viruses, are more difficult to eliminate.
There are many sources of contamination in hospitals, with patient resident flora and medical staff playing a role as transmission vector. The equipment and the air or water environment can be source of nosocomial contamination.
PROHYGIENA-SURFABAC DALD-DNDD
Very broad spectrum bactericidal and fungicidal disinfectant cleaner, which definitively eliminates the causes of infection that can be encountered in care and rest establishments, leisure centers and in the food industry (compatible with HACCP systems).
Its original, fragrance-free formula leaves no odor on surfaces and equipment that have just been disinfected. This is a very appreciable advantage in the food industry and in white or sterile areas.
ACTION AGAINST BACTERIA
Pseudomonas aeruginoumsa, Escherichia coli, Staphylococcus aureus, Enterococcus faecium, Enterococcus hirae, Streptococcus faecalis, Mycobacterium smegmatis.
APPLICATION SPECTRUM
Food trade and industries: disinfection of premises, floors and manufacturing and transport equipment.
Hospitals, communities and HORECA sector: general cleaning and disinfection of buildings, annexes, kitchens, sanitary facilities, storerooms, garbage rooms, cellars, etc…
Breeding facilities: disinfection of premises and breeding equipment for small and large animals, with the exception of milkers on farms.
Swimming pools: general cleaning and disinfection of floors, corridors, cubicles, showers and toilets, degreasing of the copings and walls of swimming pools (do not use in swimming pool water).
METHODS OF USE
-Soaking and/or spraying
-Spraying and brushing
-High pressure cold and hot system
-Rinsing with a water jet or a dip (a light brushing is recommended)
-High pressure rinsing for large surfaces
SPECIFICATIONS
The product is intended for the cleaning and combined disinfection of surfaces, equipment and objects of use. Heavily soiled surfaces and materials should be cleaned beforehand and thoroughly with an appropriate cleaner, rinsed with clean water. Remove excess water.
Lightly soiled surfaces and materials can be treated directly with PROHYGIENA-SURFABAC DALD-DNDD, thus combining cleaning and disinfection. During disinfection, use plenty of liquid to keep surfaces wet during the application period. Minimum application period of 5 minutes. In the event that the surfaces where the treated materials may come into contact with foodstuffs, beverages and their raw materials, then they should be rinsed thoroughly with water after the period of application of the product.
DOSAGE
Dilution: 1% (10ml/l), contact time: 5 minutes
-General surfaces, equipment and materials in contact with foodstuffs, beverages and their raw materials
-Floors, walls, furniture
-Hospitals surfaces (walls, floors, furniture) with the exception of the "tuberculosis" department
-Isolettes
-Kitchen surfaces and equipment
-Toilets and other sanitary facilities
-Instrumentation (except stethoscopes and fragile medical instruments) only before use and before cleaning and sterilization
COMPOSITION
Non ionic surfactants and quaternary ammonium
(Didecyldimethylammonium chloride CAS-7173-51-5: 45g/liter)
CHARACTERISTICS
Appearance: clear, colorless liquid
Odor: specific to the product
Density: 1,040
pH (pure product): 12.00
pH (solution 1%): 10.50
Solubility: soluble in water (insoluble in hydrocarbon solvents)
Regulatory information: refer to safety data sheet
Hazards: Xi-IRRITANT-Class A hazard symbol
Sale reserved for registered sellers, use reserved for authorized users (healthcare establishment, sports center or food industry management)
PACKAGING
Available in 5 liter plastic container grouped in boxes of 4 containers.
A dosing pump can be provided (1dose = 30ml)