Registered Supplier of UNICEF n° 15 86 73. (Certification: BSCI, ICTI, ISO9001: 2000, CE.)
Treated with WHO/WHOPES deltamethrin standard
Insecticide formula:
C22H19Br2NO3: 55 mg/m²
Mesh: 156 holes/inch² – 25holes/cm²
Resistance: 250 kpa minimum (250-435)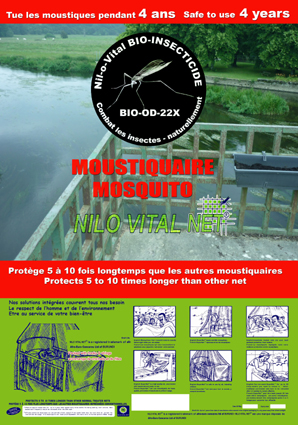 GENERAL ADVICE
-It is best to take the mosquito net before sunset.
-Always keep the mosquito net in the accompanying cover and preferably in a dark place.
HANGING UP
-It just takes a little creativity to hang everything NIL-O-VITAL NET in many different places.
-Each NIL-O-VITAL NET comes with wire, hooks, nails and safety pins.
-In case it is not possible to create an attachment point above the bed, stretch a wire horizontally above the bed. You can then fix it on the wire.
IMBUING
Imbued NIL-O-VITAL NET models are treated with our NIL-O-VITAL bio-insecticide BIO-OD-22X allowing the net to be washed up to 20 times.
NIL-O-VITAL bio-insecticide imbuing offers 5 times longer protection than usual imbuings, with a minimum of 4 years.
WASHING
Wash carefully at minimum 40° C. No bleach or chlorine. No ironing. No dry cleaning. Do not tumble dry.
NET SPECIFICATIONS
-100% Multifilament Polyester
-Denier: 50 to 100 (Denier is the tensile strength of the net)
-Mesh: 156 holes/inch²
-Ultra Light Weight: 0.39 to 0.50 kg (0.85 lbs)
-Deltamethrin Treatment: 25 to 55 mg/m2