Hygro-alcoholic gel for hygienic treatment and surgical disinfection of the hands by friction.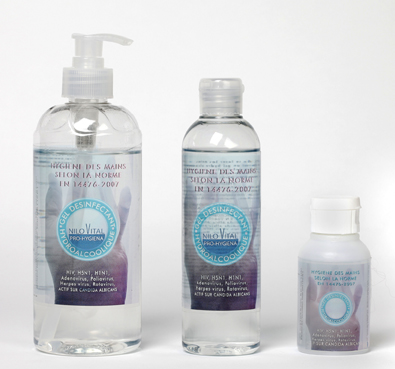 COMPOSITION
Ethanol: 649g / l CAS n° 64-17-5
Excipients: plant extract
MICROBIOLOGICAL PROPERTIES AT 20° C
Bactericide (NF EN 1040, EN 1276,)
Fungicide (EN 1275 candida ALBICANS aspergillus niger) Active on HIV viruses, H5N1, H1N1, Herpes virus, Rota virus, Poliovirus, adenovirus in 30 seconds.
MANUAL
Ready-to-use gel: hygienic treatment 30ml/30sec. Surgical disinfection: 2X30ml/2X30sec. Do not rinse. For application in the operating room and frequency of use, refer to the hospital protocol.
Precaution for use: cutaneous use only. Flammable. Keep away from any flame or source of sparks. In case of contact with eyes, wash immediately. If necessary, consult a specialist. Keep out of the reach of children. Do not release the product directly into the environment.