BIO-INSECTICIDE BASED ON VEGETABLE ENZYMES AND SULFUR EXTRACTS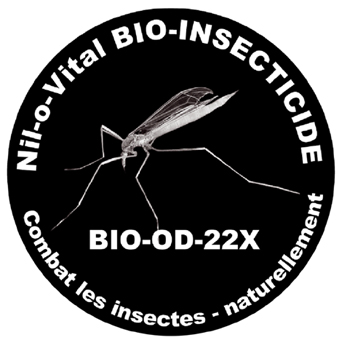 Acts without habituation phenomenon by lethal, repellent and persistent shock effect.
NIL-O-VITAL bio-insecticide is harmless to humans and warm-blooded animals.
NIL-O-VITAL bio-insecticide is used by spraying on surfaces (walls, ceilings, curtains, mosquito net, etc.)
In the form of a spray, NIL-O-VITAL bio-insecticide acts as a one-off operation of insect control in infected premises such as: homes, offices, tertiary sectors, archives, warehouses, food laboratories, bakeries, cellars, empty garbage attics, agricultural premises.
A REVOLUTIONARY INVENTION
The invention of this bio-insecticide considerably improves the comfort of everyday life.
NIL-O-VITAL bio-insecticide gets rid of the nuisance of flying insects: flies, tsetse flies, mosquitoes, wasps; and crawling insects: cockroaches, ants, spiders and their webs, mites, fleas, bugs, termites.
LONG-LASTING EFFICIENCY
Laboratory and field tests (France: Martinique, Reunion Island), Tanzania, Uganda, allow us to guarantee the effectiveness of the insecticide for a long time if used according to rules given by the manufacturer.
A PRODUCT CLOSE TO THE ENVIRONMENT
This product is ahead of European standards in terms of health and respect of the environment.
It is recognized as non-toxic to humans and warm-blooded animals.
NIL-O-VITAL bio-insecticide, in contact with insects, acts in triple action:
1) Shock effect, drying out and neutralizing their nervous system.
2) Long lasting repellent effect.
3) Acts without habituation phenomenon.
EASY USE
Helps fight diseases such as malaria, sleeping sickness, and several other types of infections that insects can spread.
NIL-O-VITAL bio-insecticide contributes to the well-being of everyone.
ONE PRODUCT, TWO APPLICATIONS
It can also be applied to imbue curtains and mosquito nets. It allows to cover the surfaces already painted or upholstered, without altering the basic paints.
USE
To achieve a real treatment of surfaces: curtains, walls, mosquito nets, apply 3 times, every 8 other days, to correspond to the insect reproduction cycles.
TREATMENT VOLUME : 300ml for 80 to 150m³
PARASITIC CYCLE OF TRYPANOSOMA BRUCEI (source: CDC)
The tsetse fly is large, brown, and stealthy. The sting is felt like a hot needle stuck into the flesh. During a blood meal on the mammal host, an infected tsetse fly (genus Glossina) injects the metacyclic trypomastigotes into the skin tissue. Parasites enter the lymphatic system and pass into the bloodstream. Inside the host, they turn into circulating trypomastigotes in the blood and are transported to other locations throughout the body, reaching other biological fluids (eg, lymph, cerebrospinal fluid ), and continue to replicate by fissiparity.
The parasitic cycle of the African Trypanosome is represented by extracellular stages. A tsetse fly becomes infected with circulating trypomastigotes by taking a blood meal from an infected mammal host. (In the fly gut, the parasites develop into procyclic trypomastigotes, multiply by fissiparity, leave the gut, and develop into epimastigotes. Epimastigotes reach the fly's salivary glands and continue their multiplication by fissiparity. The cycle in the fly lasts approximately 3 weeks.